Whether you're a newly-minted senior or one of the many longstanding "seasoned citizens," Baby Boomers and older folks alike certainly possess a wealth of choice and experience when it comes to treating their grandkids to a good time. As a late-stage Boomer, I can recall the days when I and my siblings were just kids in elementary school going about our tiny lives amid the hazy backdrop of the 1960s.
Remembering those carefree days, filled with walking to and from school, having kickball games at recess, taking in the smells of hot lunches in the cafeteria and the sounds of rustling lunch bags and clanking Daniel Boone, Lost in Space and Barbie-themed lunch boxes, we had few if any concerns in the world.
Now, time can be a rather abstract concept to a grade school kid, but by fourth grade the calendar was a concrete thing to me; a tangible representation of the future, which I and my sisters would use to plan and contemplate distant, yet important events.
Some of the more important mileposts during our "kid-year" were those precious visits from our grandparents. Inevitably, once an arrival date had been established, we would keep count of the days until Nan and Pop would come into town for one of those longed-awaited visits. Usually coinciding with birthdays, holidays and, of course, summer vacation; those were the times for which we truly lived.
Taking the sleeper train from New York City into Detroit, my mother's parents would pay our family a visit numerous times during the year. In turn, we all "paid" the price having tacitly agreed to sit still for what seemed like an eternity as we were subjected to our grandfather's endless home movies and self-made travelogues (many of which we actually treasure now that he is gone).
The payoff for us kids were those handful of day-long outings that our grandparents would take us on all around the Detroit area. Looking back on it – now as a grandpa myself – I realize how relieved our mother and father must surely have been when the reinforcements arrived and grabbed the three of us up to head off on any number of adventures around town. Being treated to some really fun spots, like the amusement park at Boblo Island on the Detroit River, Henry Ford Museum and Greenfield Village (now known collectively as "The Henry Ford") and, in the warmer months, spending hours upon hours at a beachfront facility on a large local lake for some fresh-water swimming and aquatic hijinks.
In addition to those classic "large-scale" fun-time activities, we also tended to get carted off for breakfast and lunch quite frequently, mainly due to my grandfather's love of food. As kids, we had no qualms when it came to eating out with our grandparents; as most anyone with kids will attest, a burger, hotdog or grilled cheese sandwich is usually a welcome respite for almost any child when the alternative at home is the dreaded fish sticks and veggies torture meal, especially when that fast-food fare was followed by a chaser of ice cream.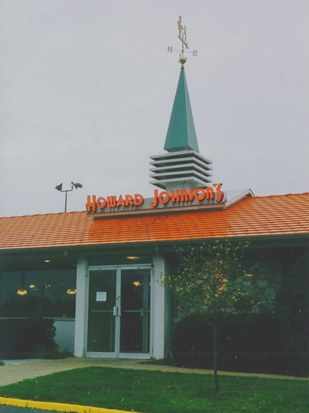 It has to be said that our grandparents were big fans of the then-ubiquitous Howard Johnson restaurants, found here in Michigan and throughout the U.S. in the 1950s and '60s.
Howard Johnson's was THE place to go, not simply because there was one just down the road from our house, but because of our grandparents' familiarity with the chain. Even AMC's Mad Men dramatic series featured a visit to an East Coast HoJo's restaurant and motor lodge during one episode, though it was hardly a high point for the series' protagonist, Don Draper.
While the original Howard Johnsons is mostly just a faded memory, save for a few remaining locations, back then there were hundreds of locations, which our grandparents often took advantage of during their annual summer road trips all across these vast United States.
The always hospitable Howard Johnson restaurant, cozy in the winter and air conditioned in the summer, were also perfect for us as grandkids way back when. As Baby Boomers, and now grandparents ourselves, my wife and I are always on the lookout for something just as fun, if not more interesting, to share with our children's children.
Many of our childhood memories bubbled to the surface when we ran across a quaint '50s-style diner during a recent trip to the Denver area. This distinctive venue was made all the more enjoyable when compared to the huge number of cookie-cutter eateries found on almost every street corner these days. In fact, it's always a thrill to find a relatively unique family restaurant with a fun and child-friendly atmosphere that is also inviting to seniors and Boomers such as ourselves.
During that trip, my wife and I stopped into Gunther Toody's, certainly one of those old-timey spots that brings to mind the light-hearted feel of the 1950s, replete with all the neon lights and sock hop music one could hope for. Add to this the fact that Gunther Toody's food is delicious and the waitstaff pleasant and fun-loving; frankly it's one of the best places to go for a morning meal with the kids and/or the grandchildren. Even when we're on our own, Toody's makes us smile just strolling up to the restaurant's art deco-style white, red and chrome façade.
To some Boomers the restaurant's name may seem oddly familiar, most especially to fans of the early '60s TV sitcom, "Car 54 Where Are You?" For those who do not remember, the two actors in the show will certainly be familiar. Fred Gwynne, of "Munsters" fame, played Officer Francis Muldoon opposite Joe E. Ross as Officer Gunther Toody. The fictional pair drove the famous Patrol Car 54 for the Bronx precinct of the New York City Police Department as they fought crime, but mostly found themselves in all manner of comical situations. Ross' short, stocky and slightly more dopey Officer Toody, who often blurted out, "Ooh! Ooh! Francis!" provided a humorous counterpoint to Gwynne's taller, more vociferous Muldoon.
Regardless of its name origin, the fare is fine at the 20-year-old Toody's, which has more than a dozen locations in central Colorado including one we visited in Glendale, about 30 minutes from downtown Denver.
With breakfast specials, bottomless soups of the day, BLTs, fish plates and chicken dishes, not to mention burgers, meatloaf and tortillas, the menu is a big draw for adults and kids. But it's the atmosphere where this venue stands out from many other family-type restaurants, at least in our book.
For those born in the late '40s to early '60s, the entire operation is a throwback to the days when teenagers regularly rocked around the clock and twisted the night away. Gunther Toody's mid-century malt shop atmosphere is inviting and fun, especially for Boomers and others looking for a 1950's-style family-friendly restaurant. Each of the wait staff goes by a nickname one might expect from the era of saddle shoes, poodle skirts and D.A. hair-dos. Our waitress, "Poopsie," was ever jovial and quite accommodating, having treated our 3-year-old grandson to a small bowl of vanilla ice cream after nothing else seemed to do.
On the walls and throughout the entire diner, one can find various bits of memorabilia from the '50s and '60s, while the sound system plays rock & roll favorites – and even a few lesser-known tunes – from artists as diverse as Elvis Presley, Frankie Valle, Mountain, and Sam and Dave.
Bright candy apple red and aqua-colored vinyl bench seats add to the festive mood and are extremely kid-friendly. At the Glendale location there is a '60s-era Triumph motorcycle that looks to be balancing on the wall dividing a row of booths, while in another section a late '50s blue Corvette floats in the center of a bar island; a perfect conversation piece for a fun setting like this.
The next time you're traveling through Colorado, or staying over in Denver or the Colorado Springs area, you might consider paying them a visit. Whether you're a dyed-in-the-wool rock & roll fan or just a hungry traveler looking for a fun eatery, one of Gunther Toody's locations might just be up your alley.
Whether you go for the Big Bopper breakfast special or stop by on a whim for a burger and fries any other time of the day, memories abound for young-at-heart Boomers. And here at Gunther Toody's, those Grammys and Grandpas toting along a curious preschooler or two will likely find that these restaurants provide a range of affordable meals (especially on Mondays when kids eat free!), as well as more than a few interesting pieces of the past to linger over. Who knows, it might even be the perfect opportunity for grandparents to show their young charges a little of what it was like when we Baby Boomers were growing up in America's rock & roll heyday. Enjoy!